MELE TSCM Program Manager Presented a Patriotic Employer Award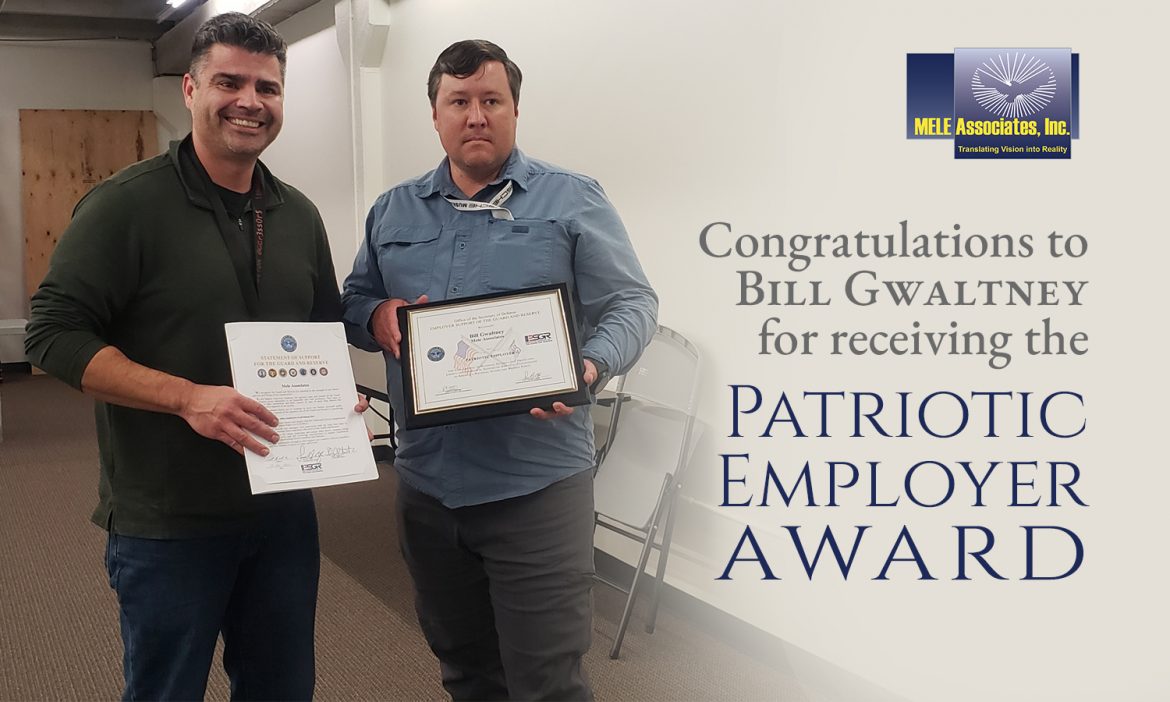 MELE Associates, Inc. TSCM Program Manager was awarded a Patriotic Employer Award on December 15, 2021
Congratulations to Bill Gwaltney, MELE's TSCM Program Manager in Albuquerque, NM, for his recent award as a Patriotic Employer.  The Office of the Secretary of Defense and the Employer Support of the Guard Reserve (ESGR) recognized MELE's support by presenting Bill with this award for contributing to national security and protecting liberty and freedom by supporting employee participation in America's National Guard and Reserve Force.
The Patriotic Award is the first in ESGR's series of awards. An employee serving in the National Guard or Reserve, or the spouse of a Guard or Reserve member, may nominate individual supervisors and bosses for support provided directly to the nominating Service member and his or her family. The Patriot Award reflects the efforts made to support citizen warriors through a wide-range of measures including flexible schedules, time off prior to and after deployment, caring for families, and granting leaves of absence if needed.
About MELE Associates, Inc.
Established in 1971, MELE Associates is a Veteran-owned (VOSB), minority-owned, small business that understands the value of effective solutions that emphasize customer satisfaction.  MELE provides support to clients for program management, technical and training support, subject matter expertise, engineering, and more.
About the TSCM Program
MELE provides technical, programmatic, and managerial support services to Government Technical Security Programs (TSP) by providing experienced and dedicated professionals on each project and through established acquisition relationships with specialized vendors.  MELE provides TSCM activities across the country to protect, detect, and respond to the technical exploitation of government facilities by adversaries and insider threats.
About Employer Support of the Guard and Reserve (ESGR)
ESGR, a Department of Defense program, was established in 1972 to promote cooperation and understanding between Reserve Component Service members and their civilian employers and to assist in the resolution of conflicts arising from an employee's military commitment. ESGR is supported by a network of more than 3,000 volunteers in 54 committees located across all 50 states, the District of Columbia, Guam-CNMI (Commonwealth of the Northern Mariana Islands), Puerto Rico, and the U.S. Virgin Islands. Volunteers, hailing from small business and industry, government, education, and prior military service bring a vast wealth of experience to assist in serving employers, Service members, and their families. Together with Headquarters ESGR staff and a small cadre of support staff for each State Committee, volunteers work to promote and enhance employer support for military service in the Guard and Reserve.