MELE VP Attends National Wreaths Across America Day
Posted on

December 20, 2021

in Events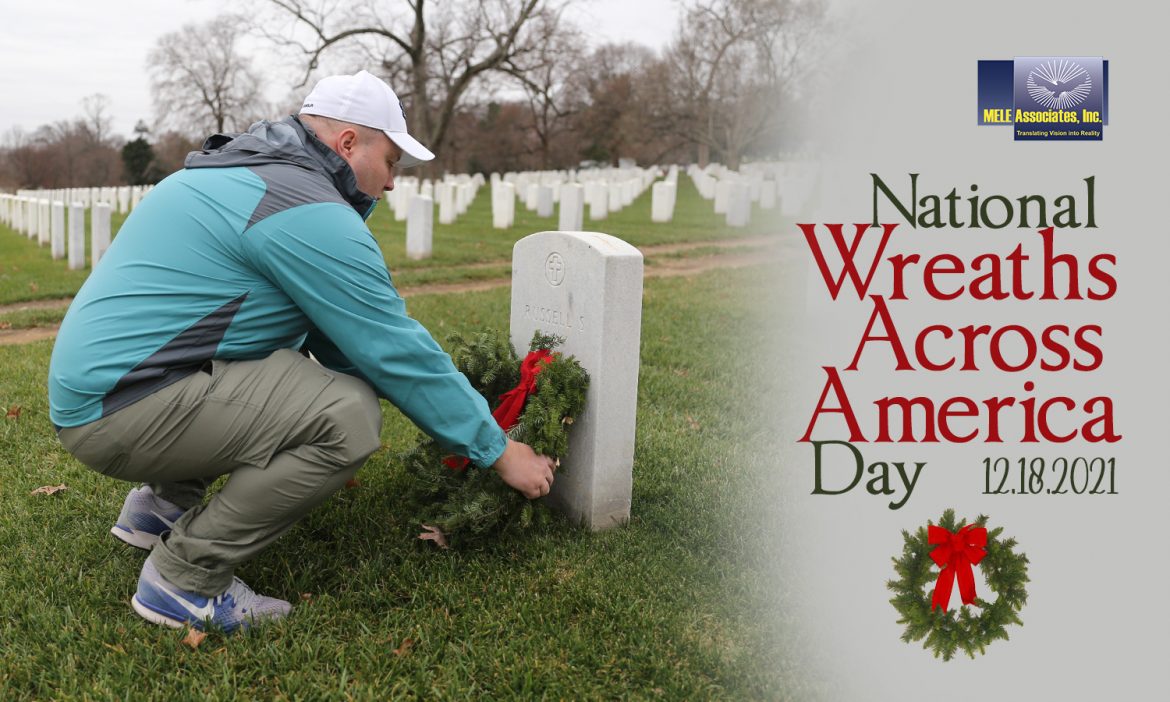 MELE Associates, Inc. Vice President, Joshua Larson, attends National Wreaths Across America Day with his family
MELE Vice President, Joshua Larson, and his family had the honor of visiting Arlington National Cemetery this past weekend for National Wreaths Across America Day to lay wreaths at the headstones of fallen soldiers and their families.
As part of a country wide effort to "Remember. Honor. Teach.", Arlington National Cemetery is only one of about 3,100 locations that Wreaths Across America serves. Held on the December 18, 2021, this year Wreaths Across America welcomed about 40,000 volunteers and laid 150,000 wreaths in an effort to honor fallen veterans, soldiers, and their families during the holidays.
About MELE Associates, Inc.
Established in 1971, MELE Associates is a Veteran-owned (VOSB), minority-owned, small business that understands the value of effective solutions that emphasize customer satisfaction.  MELE provides support to clients for program management, technical and training support, subject matter expertise, engineering, and more.
About Wreaths Across America
In 2008, over 300 locations held wreath-laying ceremonies in every state, Puerto Rico and 24 overseas cemeteries. Over 100,000 wreaths were placed on veterans' graves. Over 60,000 volunteers participated. And that year, December 13, 2008 was unanimously voted by the US Congress as "Wreaths Across America Day".
In 2014, Wreaths Across America and its national network of volunteers laid over 700,000 memorial wreaths at 1,000 locations in the United States and beyond, including ceremonies at the Pearl Harbor Memorial, as well as Bunker Hill, Valley Forge and the sites if the September 11 tragedies. This was accomplished with help from 2,047 sponsorship groups, corporate contributions, and donations of trucking, shipping, and thousands of helping hands. The organization's goal of covering Arlington National Cemetery was met in 2014 with the placement of 226,525 wreaths.
The wreath-laying is still held annually, on the second or third Saturday of December.
Learn more here: https://www.wreathsacrossamerica.org/our-story