MELE Associates, Inc. Awarded the DOE/NNSA TEPS III BPA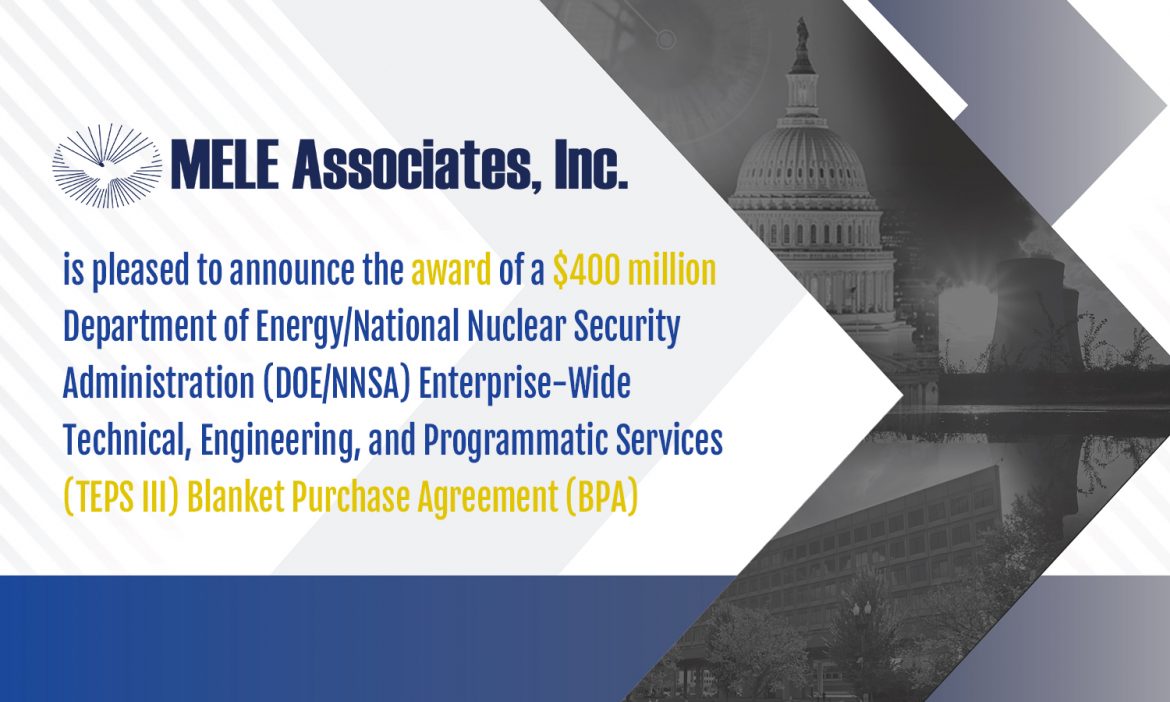 MELE Associates, Inc. Awarded the Department of Energy/National Nuclear Security Administration (DOE/NNSA) Enterprise-Wide Technical, Engineering, and Programmatic Services (TEPS III) Blanket Purchase Agreement (BPA)
Rockville, MD. MELE Associates, Inc., a veteran-owned, minority owned business, is proud to announce the award of a $400 million Department of Energy, National Nuclear Security Administration Enterprise-Wide Technical Engineering Programmatic Support Services III Blanket Purchase Agreement (DOE/NNSA TEPS III BPA).  This is MELE's fourth straight award, dating back to 2007, and third award with the MELEMAX Team. The MELEMAX Team is composed of Team Lead MELE Associates, Inc., MELE's CTA (Contractor Team Arrangement) members, and multiple subcontractors. The team is committed to providing DOE NNSA with the highest quality services in support of the agency's mission critical work and looks forward to maintaining its track record of success and client satisfaction.
MELE's Vice President of National Security and Intelligence, and MELEMAX Team Manager, Joshua Larson says, "MELE is excited for this award, and to be able to continue to support the important nuclear security and national security mission that NNSA maintains.  We bring a stronger and more experienced MELEMAX Team than we have had the last five years and we are excited to work with our great partners.  MELE and our team's experience has touched in almost every NNSA office as a team, as well as DOE offices, building great partnerships through quality support, and we are excited to support these great programs further."
The MELEMAX Team will provide coverage for all TEPS III BPA services areas for DOE/NNSA, including:
Program Management Support
Nuclear Engineering Subject Matter Expertise & Analytical Support
Training Support
Security Management Support
Emergency Operations (Domestic / International) Support
Nuclear Nonproliferation Support
Environmental Management & Sustainability
Research and Development
MELE looks forward to another five years of continued, superior support for the Department of Energy/National Nuclear Security Administration's mission of safety, security, and reliable nuclear stockpile.
About MELE Associates, Inc.
Celebrating more than 25 years of continued growth with over 150 employees and offices in Rockville, MD, Washington, DC, Albuquerque, NM, and Honolulu, HI, MELE is a veteran-owned, minority owned business empowering our customers with innovative solutions. We have an outstanding reputation for quality, integrity, and customer satisfaction, with a demonstrated tradition of building collaborative relationships with our customers to provide superior services. Our rapid response to changing customer needs, the ability to recruit and retain highly capable staff, and direct access to strong quality management ensure superior performance and high customer satisfaction.
Our staff and consultants possess decades of experience in national security, nonproliferation, program management, information technology, engineering, technical, and analytical skills. We focus on compliance and communication to ensure that services are completed in accordance with internal control principles and meet specified, acceptable levels of quality.
About the MELEMAX Team
MELEMAX has led more than 80 companies, on a combined 55 task orders, over 15 years, in support of the Department of Energy (DOE)/National Nuclear Security Administration (NNSA) Enterprise Wide Technical Engineering, and Programmatic Support (TEPS) Services BPAs. The CTA Lead MELE Associates, Inc. (MELE) is a veteran-owned small business which has assembled a 35-company team that is small business-oriented team – each with strong DOE/NNSA experience. Our Team features three Service-Disabled Veteran Owned Small Businesses (SDVOSB) and four Women Owned Small Business (WOSB) on our CTA Team. 15 years of task order experience on consecutive TEPS BPAs demonstrates that we can successfully manage large teams on large task orders going forward.
MELEMAX has retained the best performers and selected new teammates including small businesses that broaden our Team's ability to support all Task and Functional Areas, while providing best value solutions. All of our new teammates are currently supporting DOE, NNSA and national laboratory projects.