MELE Associates, Inc. Wishes the National Guard a Happy 384th Birthday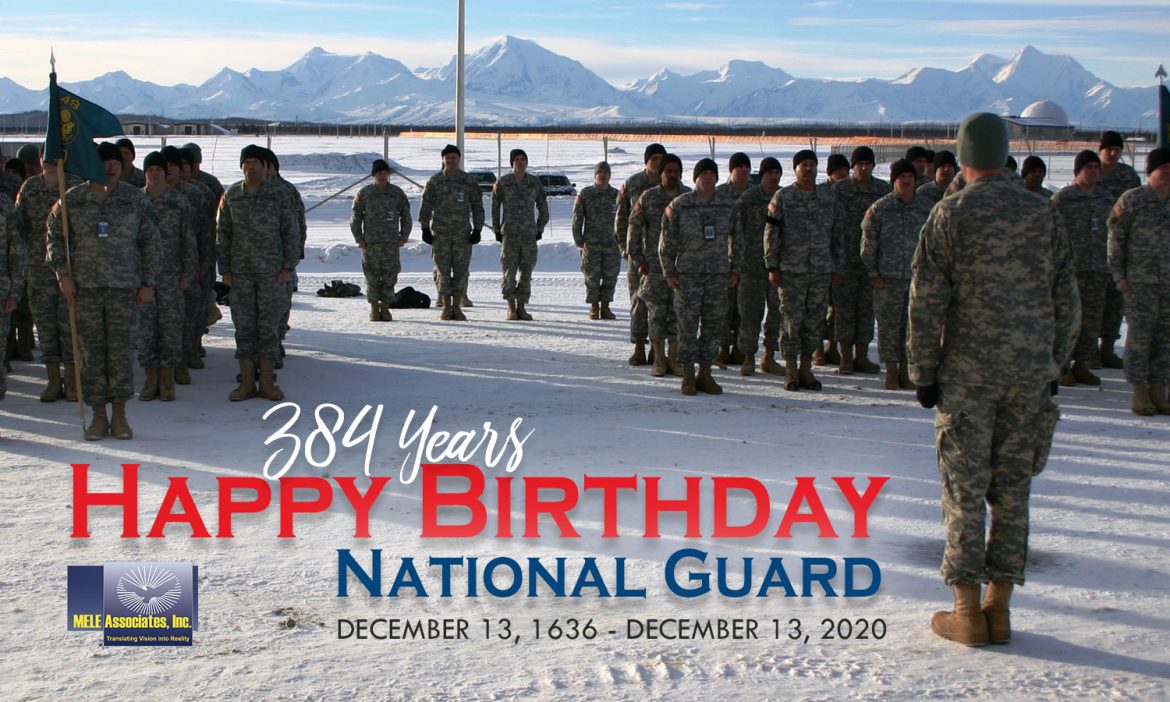 MELE Associates, Inc. Wishes the National Guard a Happy 384th Birthday
Today MELE Associates, Inc. wishes the U.S. Army National Guard a Happy 384th Birthday! Thank you for your service in the community and to the country.  Founded in 1636, the Guard has always been ready to serve at home or abroad at a moment's notice. Civilian in peace, soldier in war, thank you for being the Guard.
#alwaysreadyalwaysthere #nationalguard #communityandcountry #iamtheguard
About the National Guard
After Operation Desert Storm, the National Guard saw its federal mission change, with more frequent call-ups in response to regional crises in Haiti, Bosnia, Kosovo and the skies over Iraq. The Guard also expanded its scope of operations with peacekeeping rotations in the Sinai and the Balkans.
Following the attacks of September 11, 2001, tens of thousands of Guard members have mobilized into federal service to provide security at home and combat terrorism abroad. These men and women served in harm's way during Operation Iraqi Freedom in Iraq (2003-2011) and Operation Enduring Freedom in Afghanistan (2002-present).
In the largest and swiftest response to a domestic disaster in history, the Guard deployed more than 50,000 troops in support of the Gulf States following Hurricane Katrina in 2005. The National Guard continued to assist friends and neighbors as they endured multiple deployments overseas, and also trained to effectively respond to local contingencies and other emergencies.
The National Guard continues its historic dual mission, providing trained units to the states, territories and the District of Columbia and keeping itself equipped to protect life and property. The Guard also provides trained units to the nation equipped and ready to defend the United States and its interests all over the globe.
Excerpt taken from https://www.nationalguard.mil/About-the-Guard/.
Want to know more about the National Guard? Click the button to visit their website and find out more information.
Learn More